DETERMINE YOUR CHIMNEY
The Chimney or flue in your house will normally determine what kind of fire you will choose.
STEP ONE
Identify which type of chimney you have or whether you have no chimney using the information below.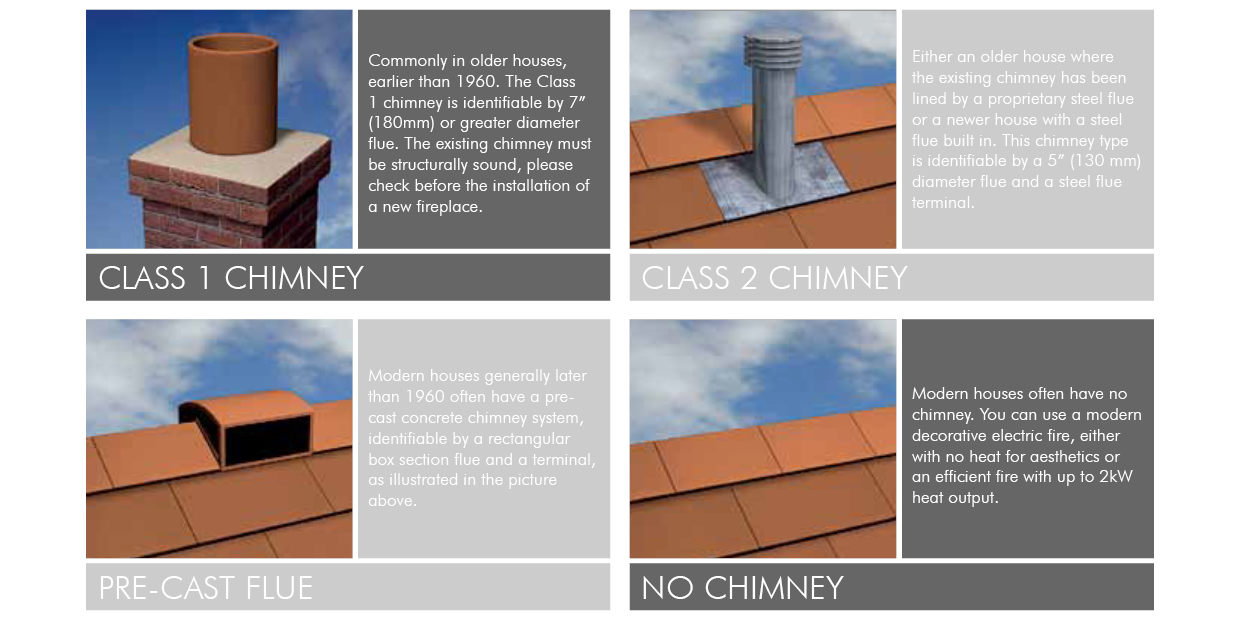 STEP TWO
Now you know what type of chimney you have (or if you have no chimney) you can decide on the type of fire and preferred source of fuel. Ensure that the fire can be matched with a suitable suite combination.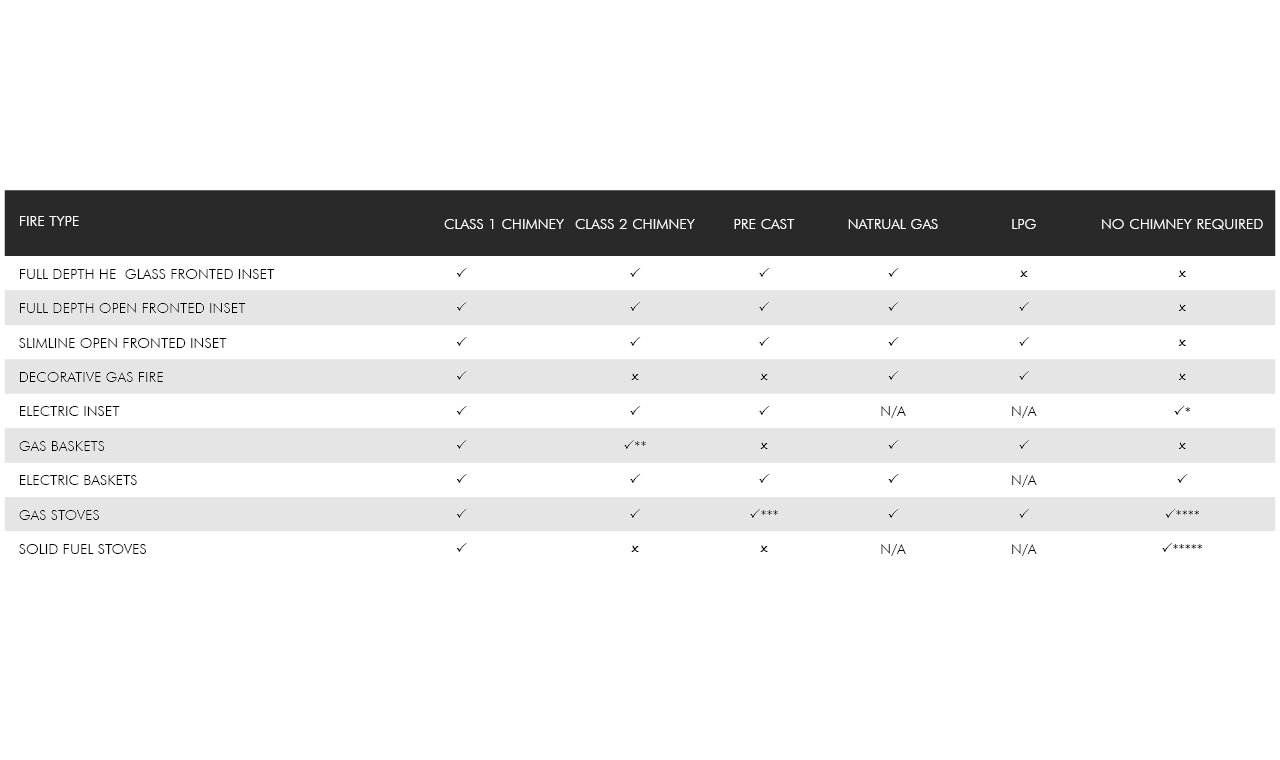 * No opening in the wall required for installation
** Under 6.9kw only
*** Specific Gas stoves only please see details of appliance
**** Selected products available in balanced flue options
***** Can be installed to a twin wall flue system
Please note, this information is provided as a guide. Please check the appliance instructions for details of the installation requirements.
FIRE TYPES
The Gallery Collection offers a choice of gas or electric appliances to suit almost every chimney flue type. Below is an explanation of how each of these engines differ from one another. Please see the table below for an overview of their key features.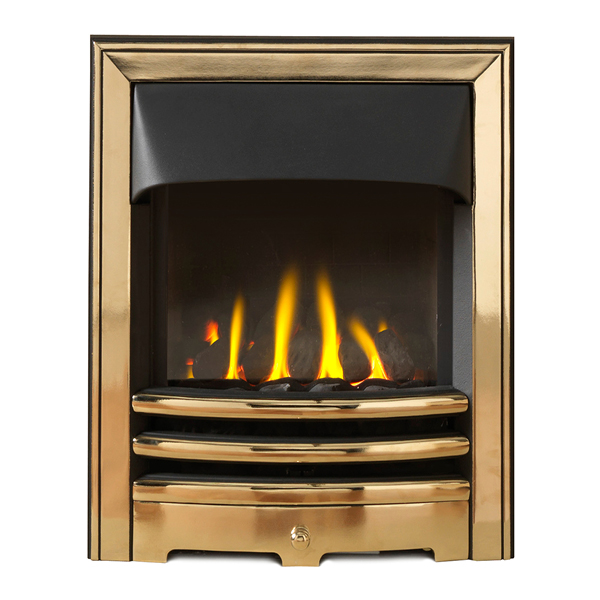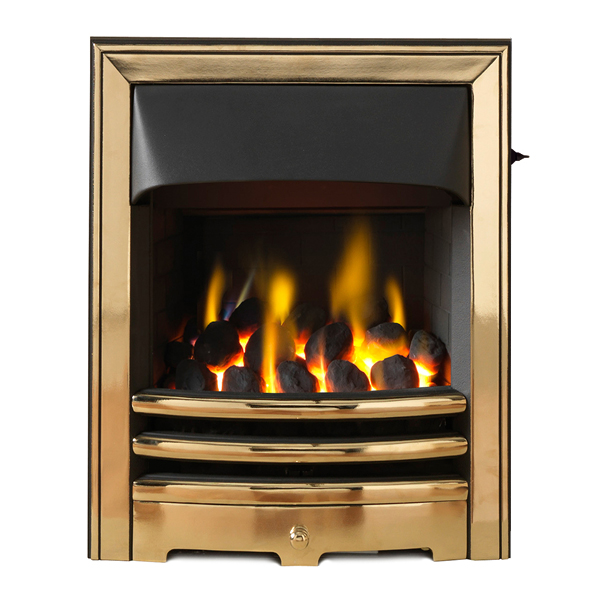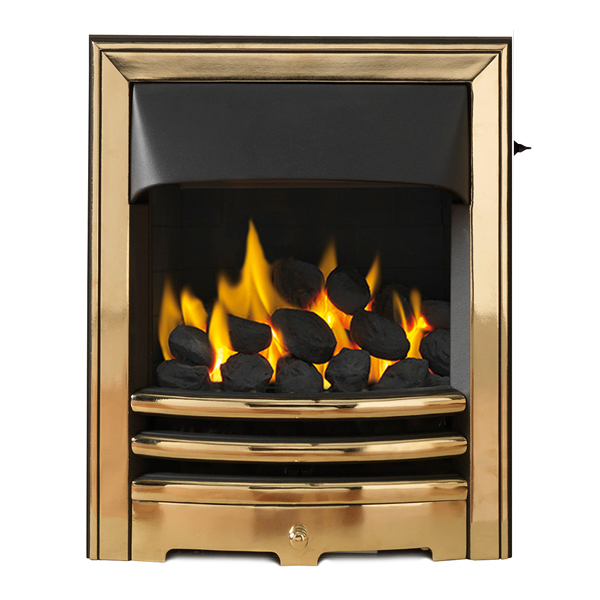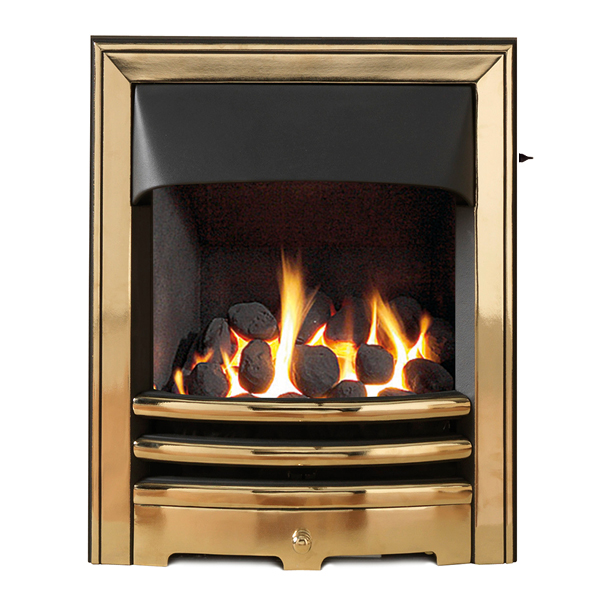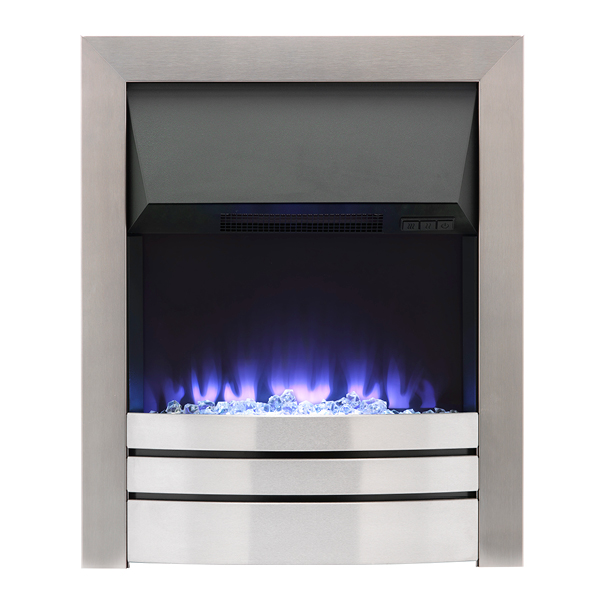 FRAME, TRIM & FRET INFORMATION 
The table below explains which frames, fire frames, trims and frets are available for each particular fire.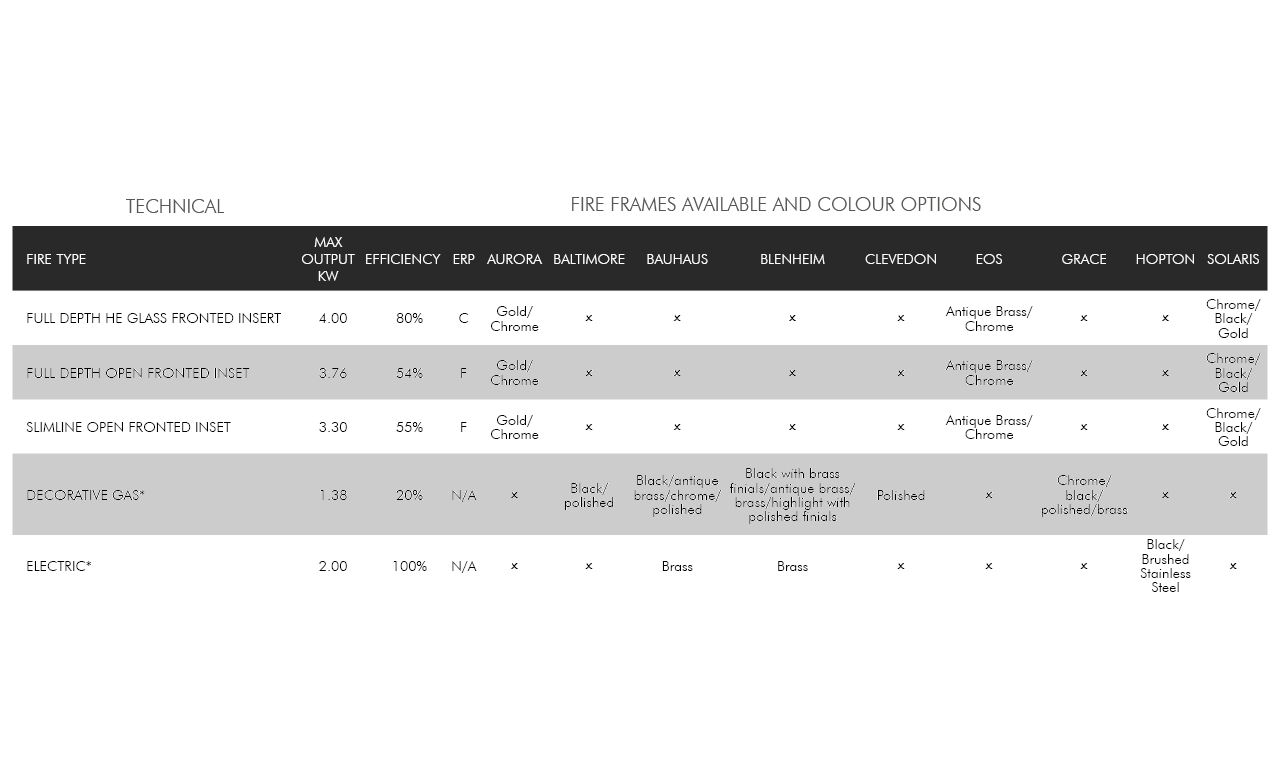 *This product is not suitable for primary heating purpose.
INSERTS, FASCIAS & COMBINATIONS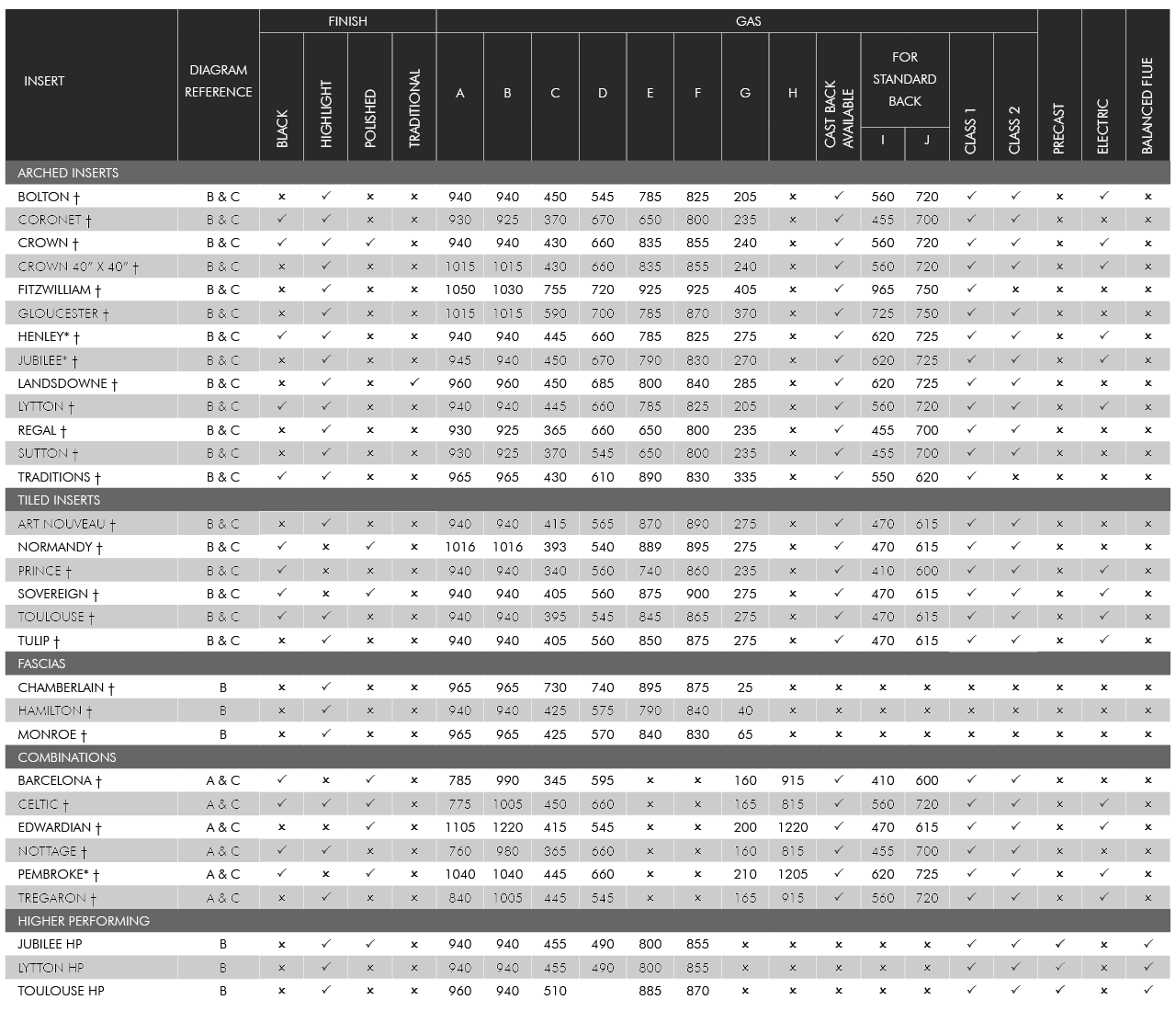 *Available with deeper back for larger burning area.
† This product is not suitable for primary heating purpose.
Please note, the precast option on the HP cast inserts is available in slimline options only.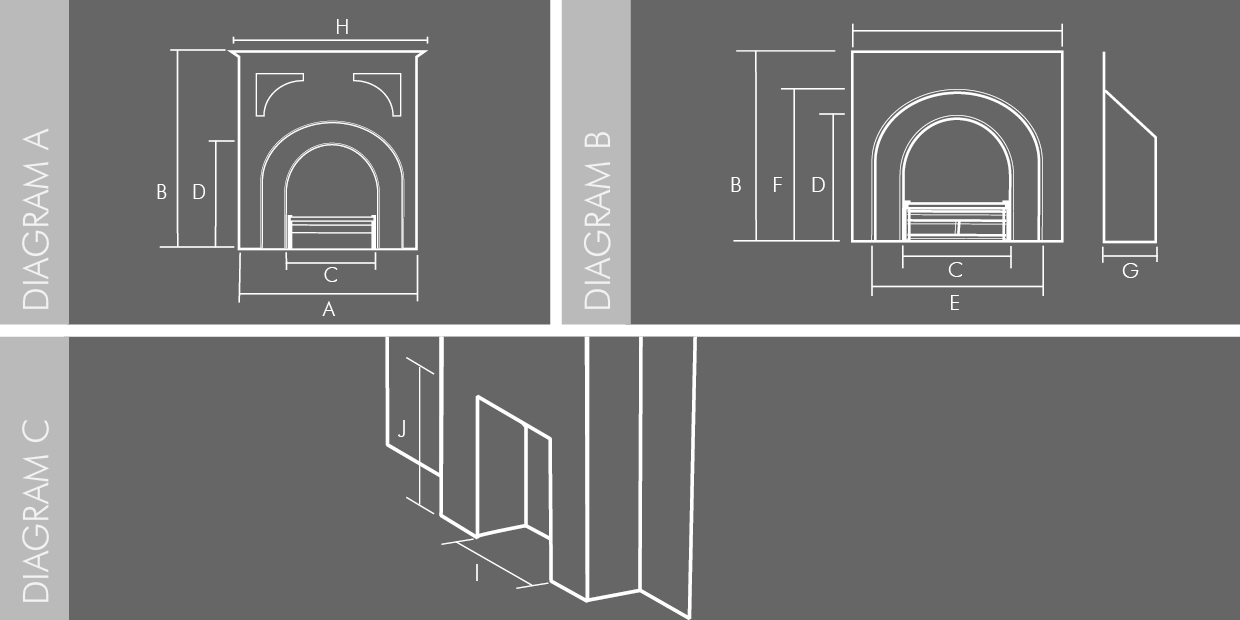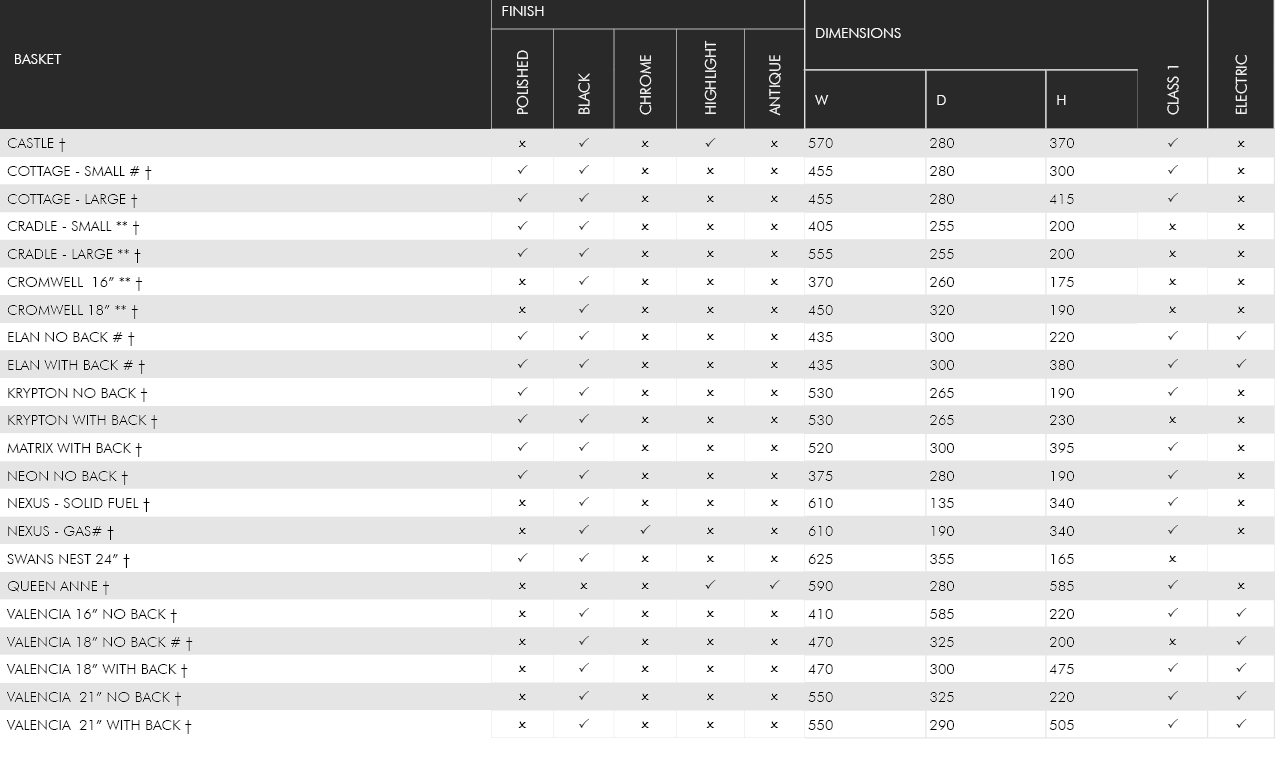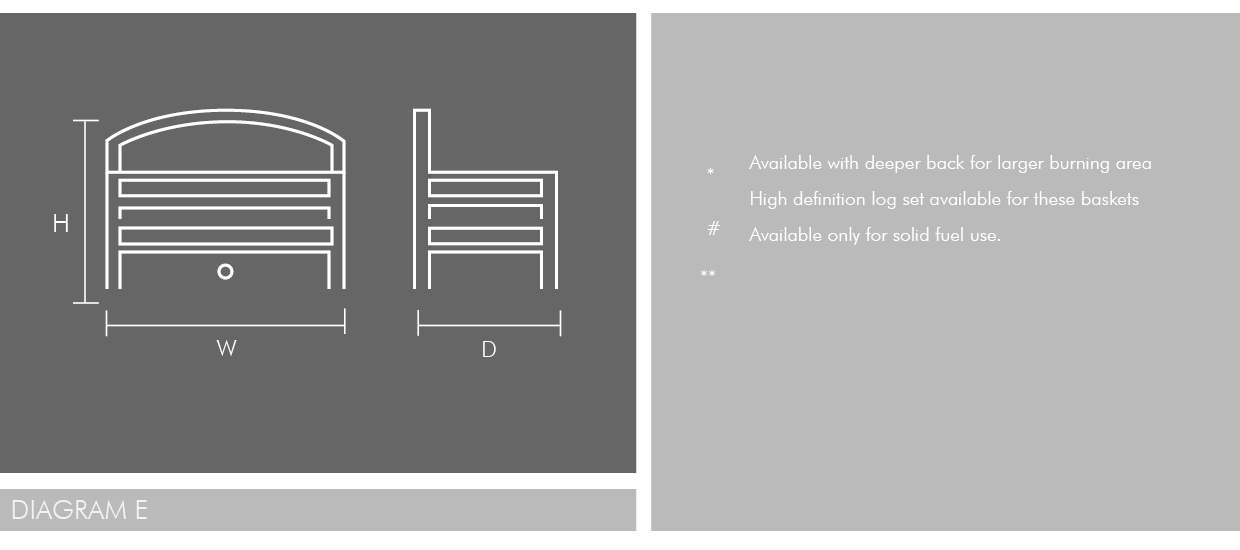 STOVE DIMENSIONS
All dimensions are in mm. Due to manufacturing processes, all measurements are approximate and may vary slightly. Please allow for a tolerance of plus or minus 12mm.
The Firefox 5 Gas, Firefox 8 Gas, Tiger gas, Tiger Inset, Tiger cub and Helios Inset stoves are all top flue only. All other stoves have the option of top or rear flue.
The Tiger Gas and Firefox 8 Gas models have a 150mm flue collar but require a 125mm flue. The collar should be packed with rope/fire cement or sleeved with a 6" vitreous pipe to finish.
It is essential that your stove is installed in accordance with Building Regulations and any other standard requirements by a competent person with experience in fitting fireplaces – your retailer will be able to help you select an appropriately qualified installer.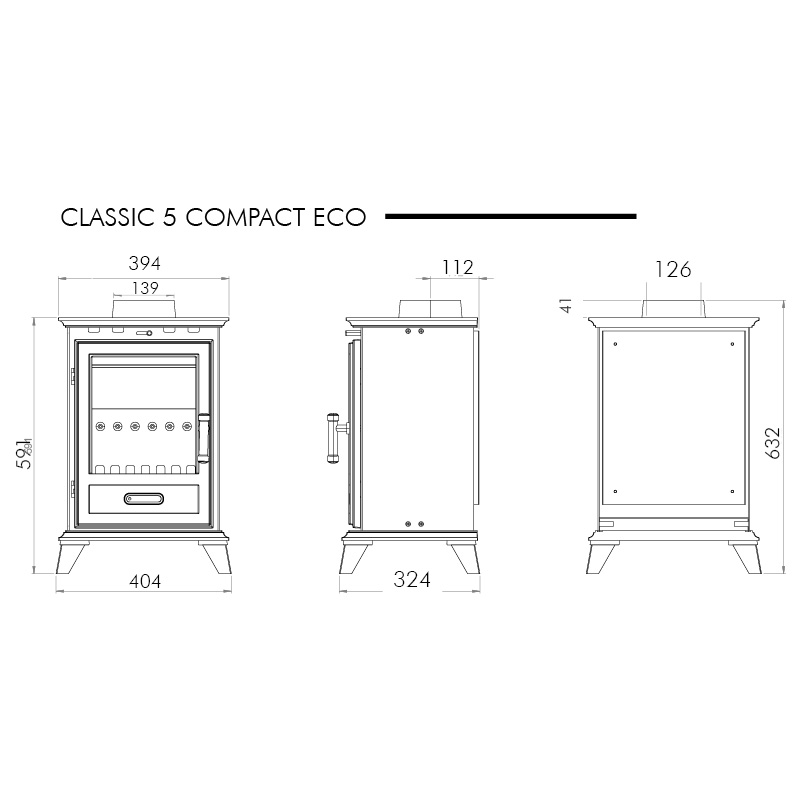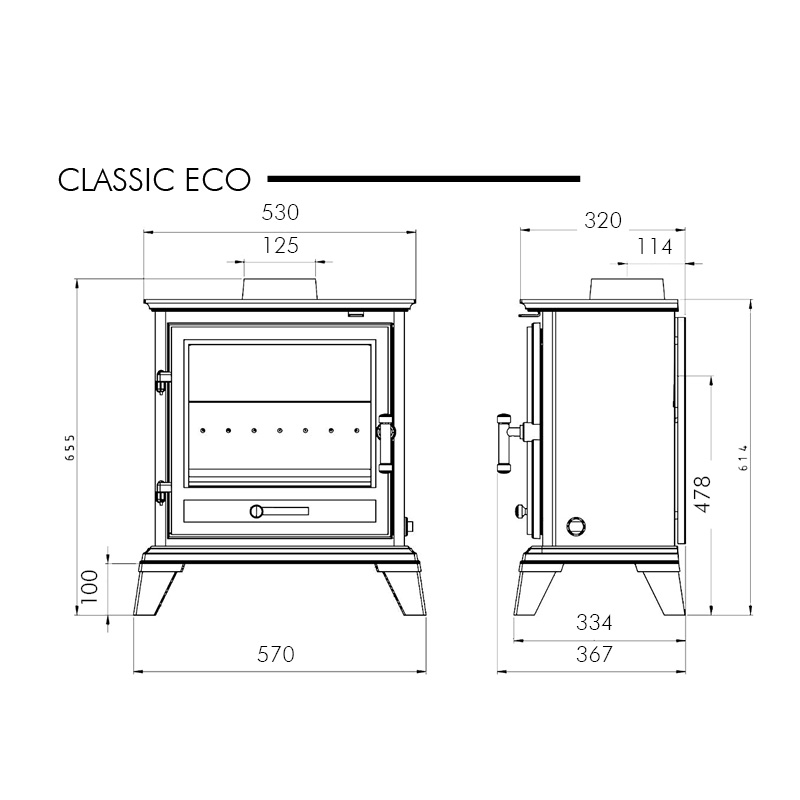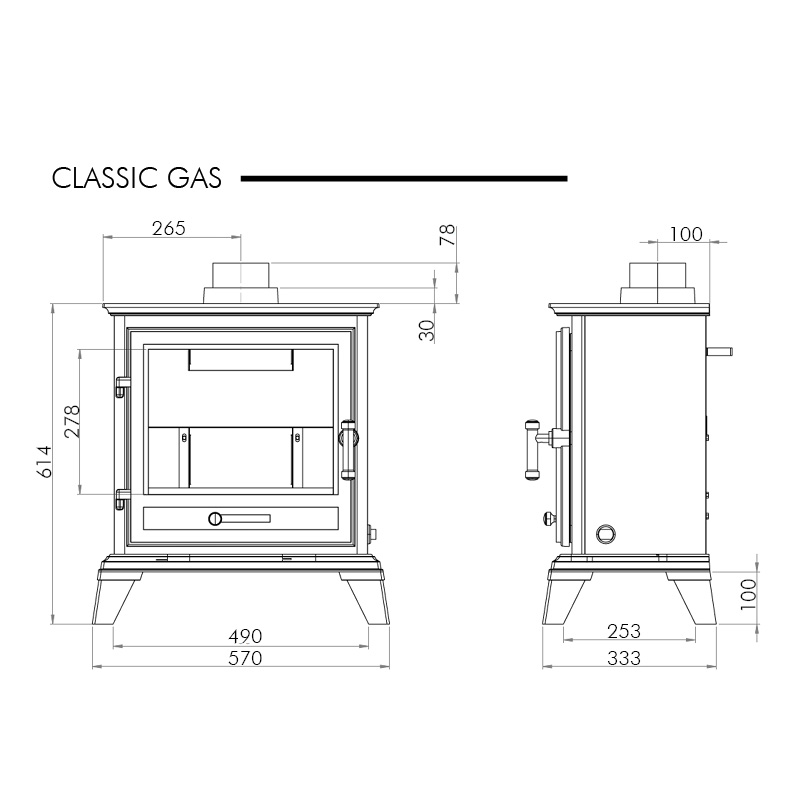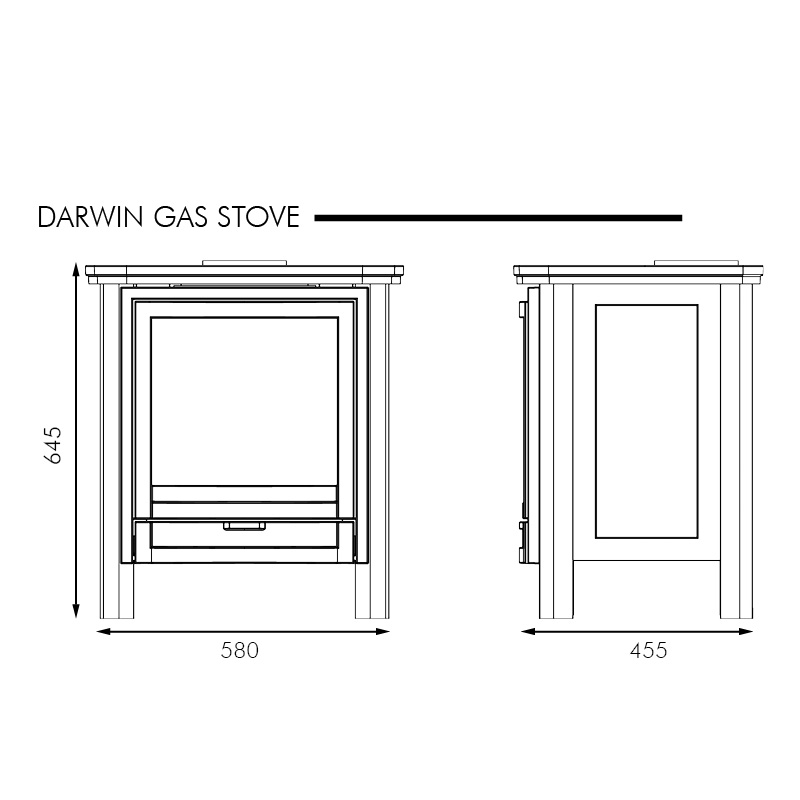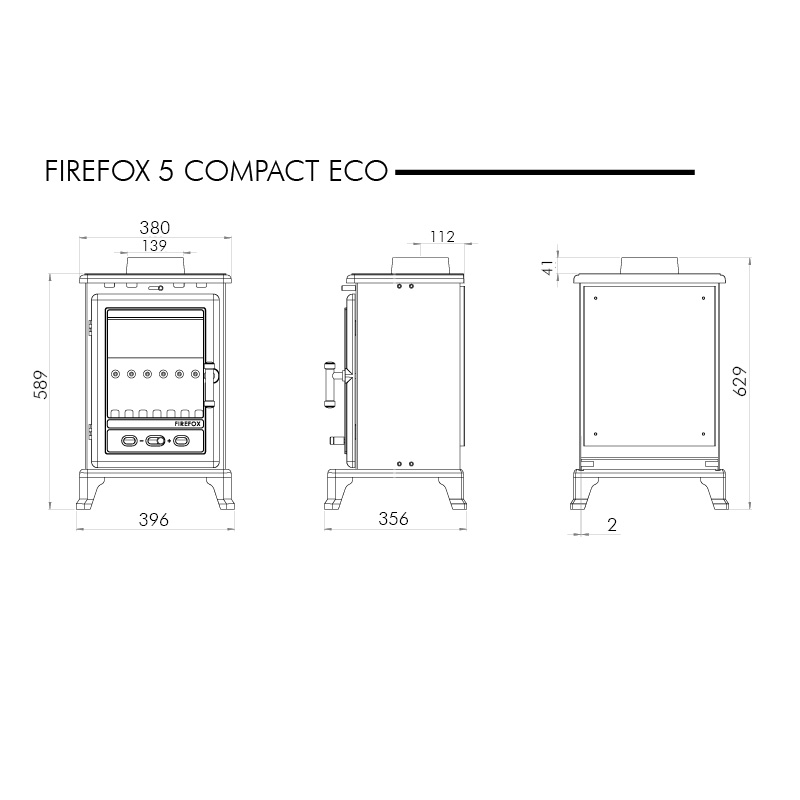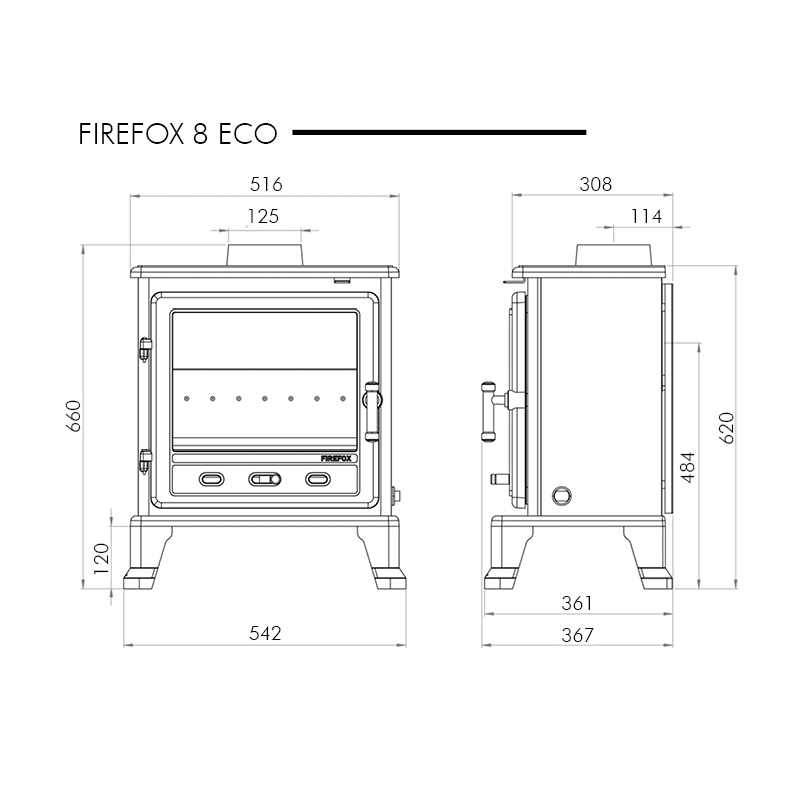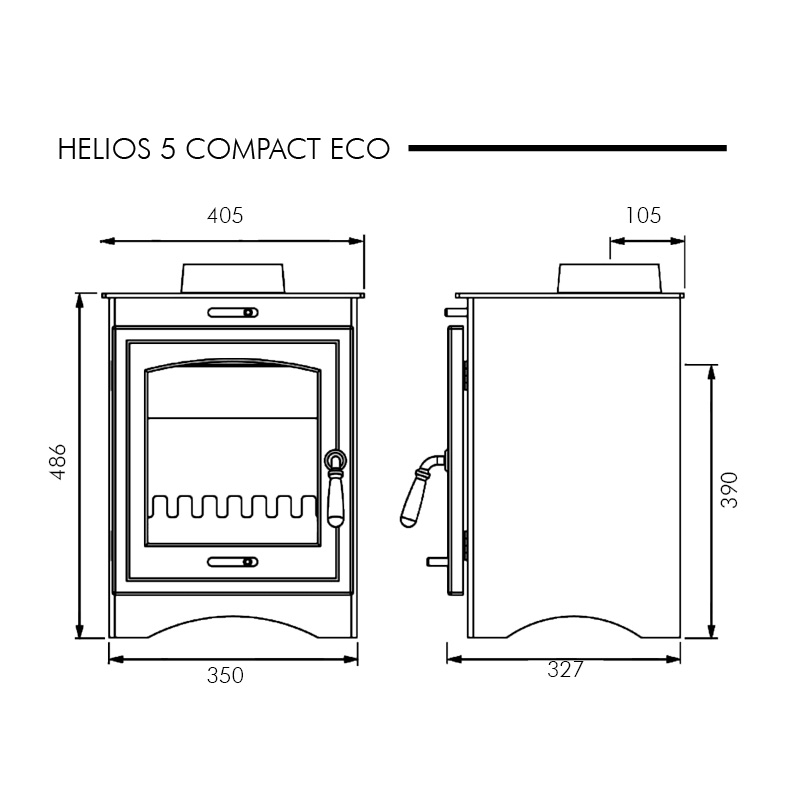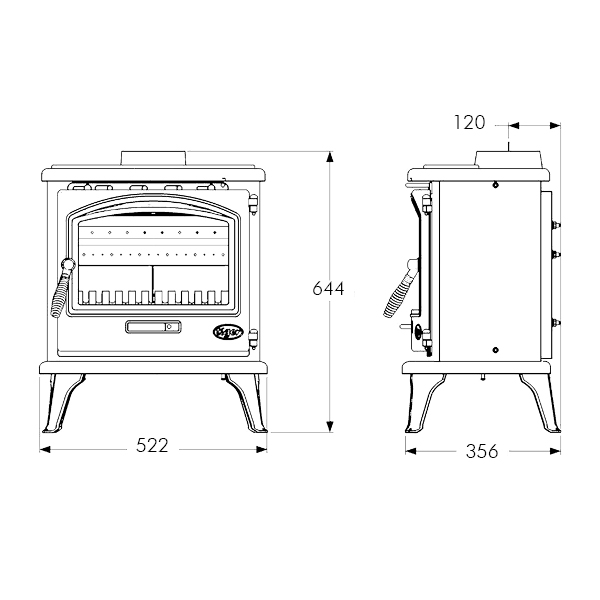 STOVE INFORMATION
Click here for stove dimensions.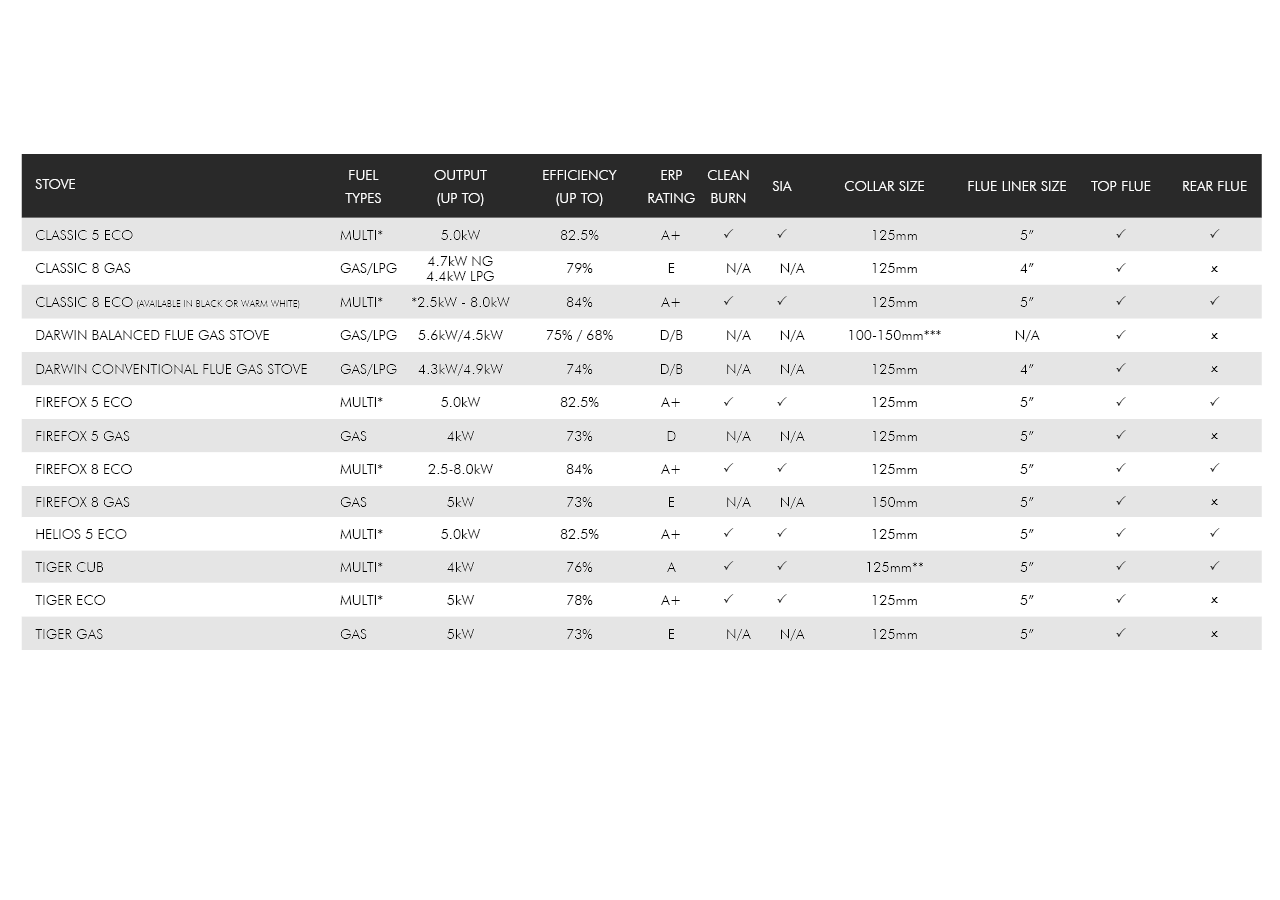 *Only wood and smokeless fuels may be used in clean burn mode
**Depth includes rear flue diverter box.
***Required with additional PDQ adapter if fitting with a flue liner.
****100mm – when fitted into a shed, inland marine craft or other buildings for occasional use. 125mm – when fitted into a standard brick built property.
*****Concentric Flue
STOVE CARE
It is your responsibility to burn the correct fuels at all times, more importantly if you live in a smoke controlled area. High temperature burning fuels can cause damage to your stove and the environment. For guidance on the best fuels to use please refer to the reccomendations of the Solid Fuel Association www.solidfuel.co.uk and always use approved fuel, in accordance with the manufacture's instructions.
No responsibility can be accepted if high temperature fuels have been used or if the draught reading on the appliance is not in accordance with the manufactures instructions, current standards and building regulations. For the future longevity of your grate, clean the ash away regularly as a build-up beneath the fire will cause the grate to burn out quickly. The grate is a consumable part of your fire and will need replacement from time to time, depending on the frequency, fuel used and burning temperature of your fire.
Most stoves have a riddling grate mechanism to ease de-ashing. Always ensure that ash is removed from your stove (once cooled) regularly. When a build-up of ash occurs, this will affect the life of the consumable parts. Gallery stoves (excluding gas) utilize an 'air wash' system which helps to keep the large viewing glass clean during operation and improve efficiency.
All Gallery stoves are manufactured from cast iron and it is vital that appliances undergo a period of 'burning in'. This involves small fires initially and then gradually increasing in size with each firing. If this process is adhered to then you should experience years of trouble free and enjoyable use.
All Gallery stoves are CE approved to EN13240 and are suitable for use with a variety of fuels such as wood, coal, coke, peat, anthracite or smokeless fuels. This does not include house coal due to the volatile temperatures.
For safety, all Gallery solid fuel stoves are supplied with a heat resistant glove, it is always advisable to use this glove when operating the stove as it will become extremely hot during use.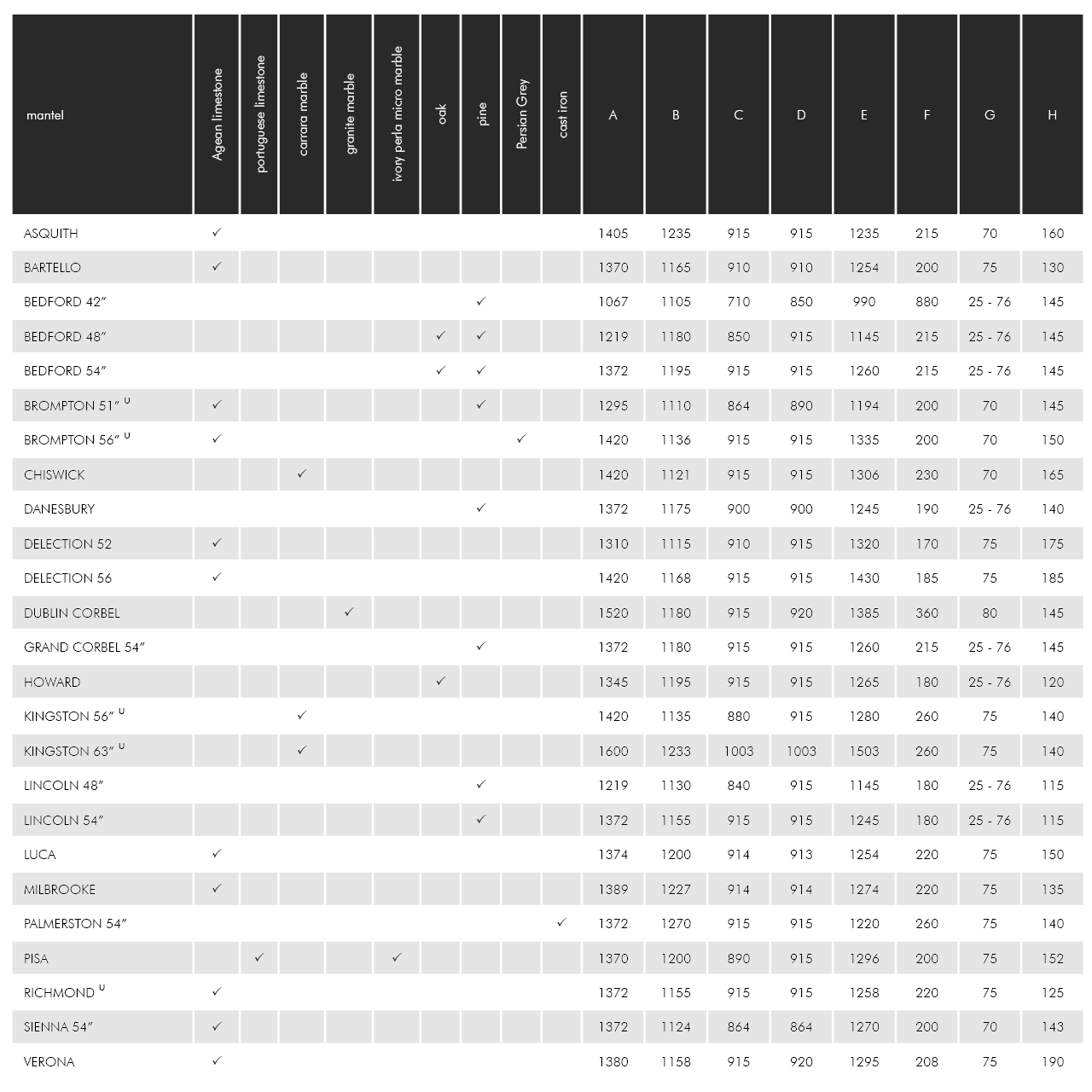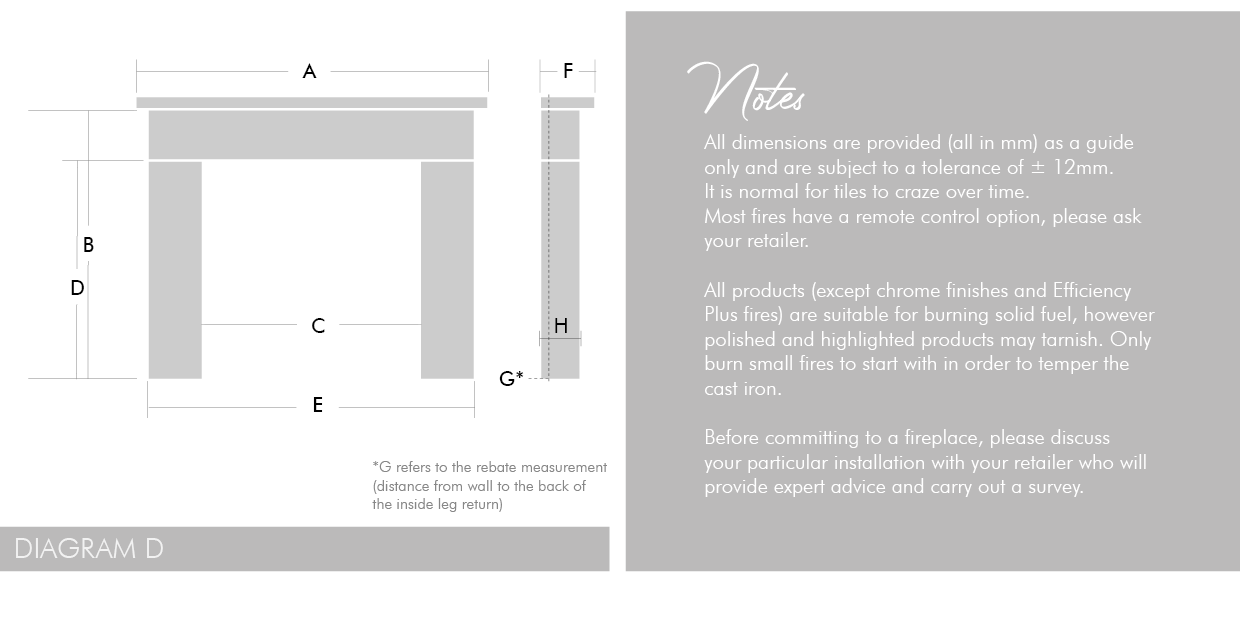 u* These mantels have the added benefit that the legs can be moved further apart by up to 50mm if required
*Standard Cartmel & Durrington 48 suites come with 3" rebate. Models with feature spot lights come with 1" rebate.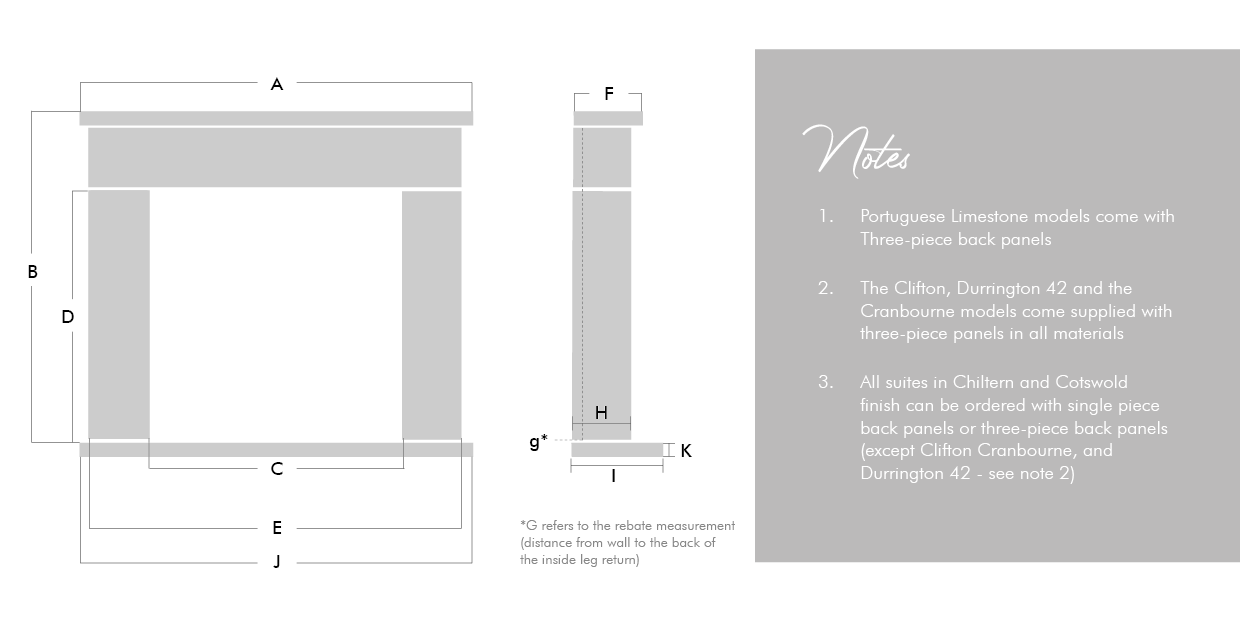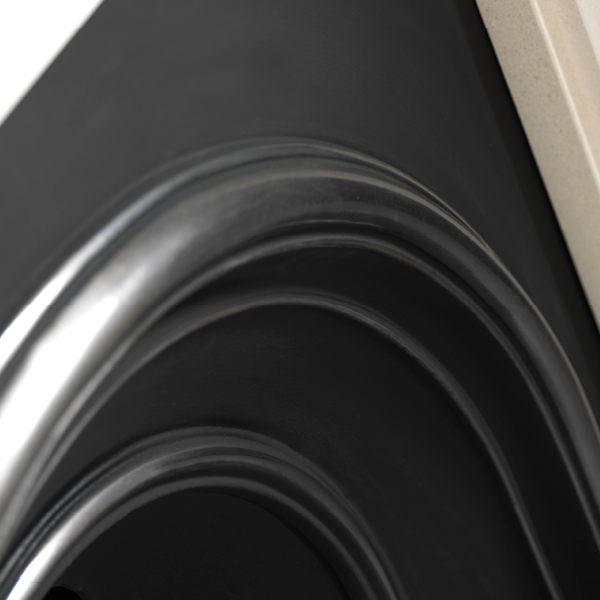 CAST IRON 
All the cast iron products are delivered with a protective, oil-based coating on polished surfaces. This should be cleaned off during the installation. It is recommended that a spray-type oil is applied from time to time in order to avoid surface rust appearing. Ensure that the room in which the cast iron product is being installed is thoroughly dry. For example recently plastered walls cause high levels of moisture in the atmosphere and, as a result, rust is likely to occur. Under no circumstances should a water-based cleaner or polish be used to clean cast iron products.
It is your responsibility to burn smoke free fuels if you live in a smoke free zone. There are some very high temperature burning fuels which can cause damage to any fireplace. Please refer to the Solid Fuel Association (www.solidfuel.co.uk) recommendations and use an approved coal merchant as your supplier.
No responsibility can be accepted if high temperature fuels have been used or if there is excessive draft. If in doubt we recommend the use of a clay fire back. Clean ash away regularly as a build up beneath the fire will cause the grate to burn out quickly. The grate is a consumable part of your fire and will need replacement from time to time, depending on the frequency and burning temperature of your fires.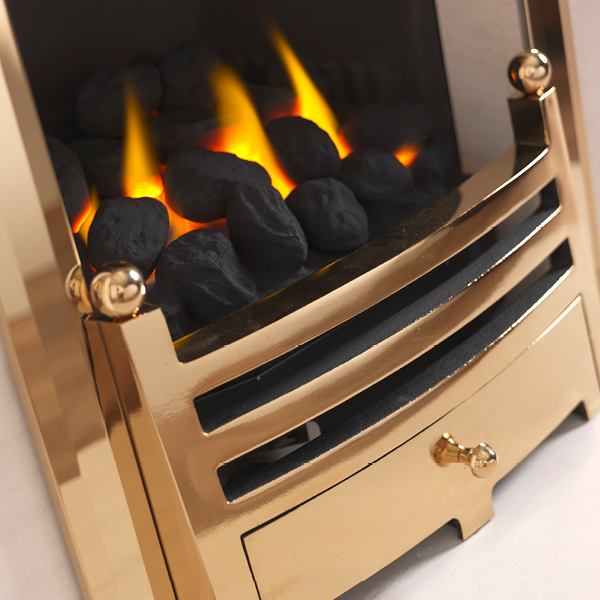 CERAMIC FUEL BEDS 
When using ceramic fuel beds, ensure that these do not touch any of the polished surfaces in order to minimise the risk of thermal discolouration. The ceramic black and graphite products are coated with a high temperature paint and during their natural burning lifecycle eventually the paint can burn off, exposing the raw material. To restore the finish a proprietary, high temperature paint can be used to re-coat the product and this paint is available from your local retailer.
LIMESTONE 
Limestone is a naturally porous sedimentary rock, therefore it is important not to spill any liquid types especially liquids of colour as these can often leave a prominent stain. In the event of a spillage, our best advice would be to contact our technical team for guidance. In the event of any damage occurring by way of a chip or a minor scratch then a fine wet and dry sand paper can be applied with care in order to achieve the best results.
Limestone products, once installed and dry should be cleaned and sealed where necessary using Gallery Collection aftercare products. Your installer should carry out the initial sealing where applicable.
The stone mantels pictured are manufactured from 100% natural material. As such the mantel you will purchase will be unique due to the inevitable variations in fossil formation, veining and colour. This is one of the great attractions of 100% pure natural products. Please be aware that small fossils and variations in the limestone are part and parcel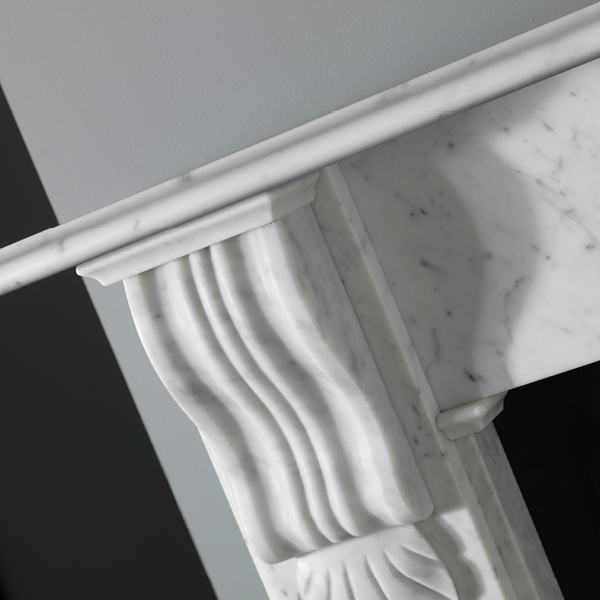 MARBLE 
Marble & Micro Marble has a surface that is extremely durable however liquids which have a strong acidy content for example citrus juices may attack and discolour the surface therefore care must be taken with any spillages of this nature. In order to maintain its subtle shine and appearance, occasionally spray with a general household polish and buff with a soft dry cloth. Do not use any bleach or abrasive cleaning agents, as these could damage the surface or dull the appearance of the material.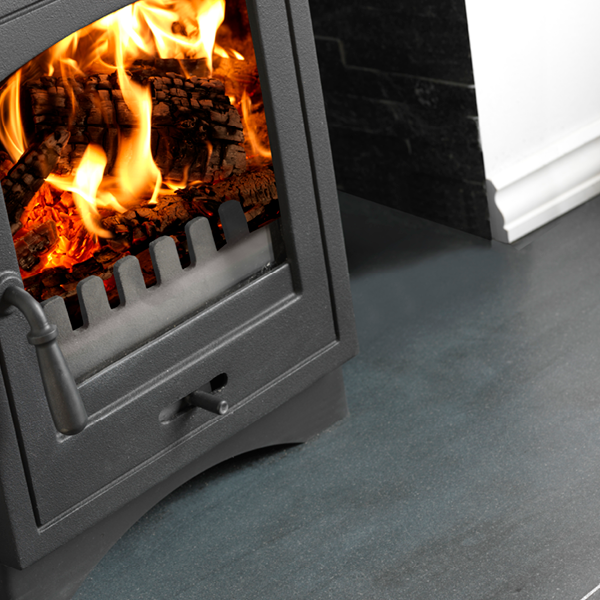 GRANITE 
Marble and granite hearths are a beautiful investment and as such require regular maintenance and care to continue looking its best. Care must be taken when lighting candles to avoid spilling wax on the surface and the heath must be protected when placing tea lights. Our best advice is to clean up any spillages as soon as they happen, as the porous surface of a granite or marble can mean that stains can happen quickly, therefore it's important to remember to soak up a spill with a clean dry cloth or sponge whenever they happen. By wiping the surface down with a warm damp cloth and then use a soft dry cloth to buff to a shine depending on the finish, when you're tidying your home, will enable you to keep it looking pristine.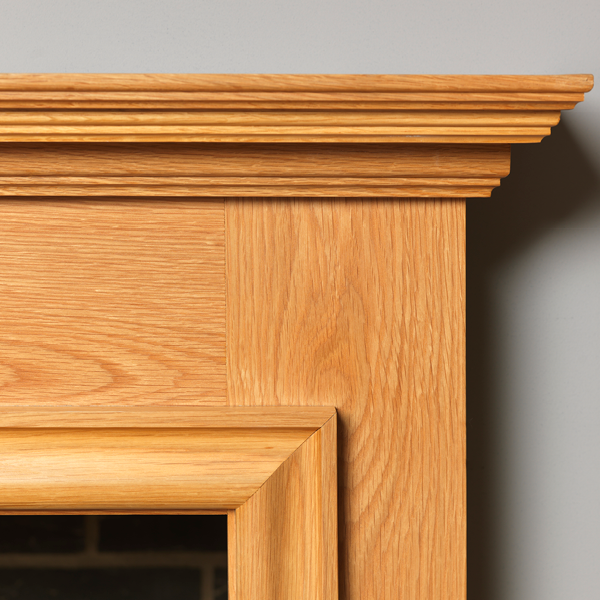 NATURAL WOOD & VENEER 
When caring for your elegantly crafted wood or wooden veneered mantel and in order to maintain its beautiful appearance, regular cleaning should be completed with a soft cloth using a mild household cleaner or polish. Water and ammonia based cleaners should be avoided, water can sometimes be absorbed into the wood and damage the surface, in some extreme cases this can cause the veneered wood to separate from the surface beyond repair. Ammonia based products can attack the protective lacquered coating and cause a dull cloudy appearance if used, it will also detract from any emphasis on the natural grain of the wood.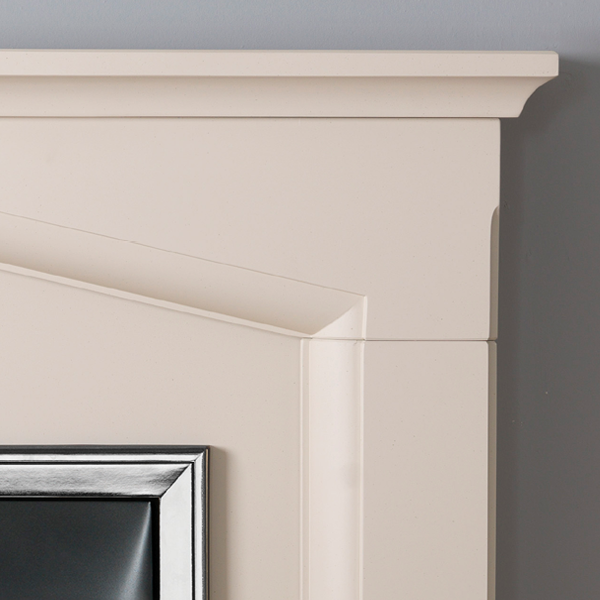 JURASTONE 
Jurastone suites are manufactured from natural stone, the application of the durable paint finish can be textured or smooth, the result of which gives a realistic 'cold to touch' feel of natural stone. Cleaning this product must be done with absolute care, for best results use a clean white damp cloth. Do not press or scrub too hard to avoid damaging the paint finish.
INSTALLATION
Your Gallery fireplace is made up of a number of different components and it is important to ensure that your installer has the necessary qualifications and experience to fit ALL the components of a fireplace.
All gallery appliances are supplied with detailed, comprehensive installation and user instructions. All installations must be in accordance with the manufacturer's instructions, current building regulations and subsequent British standards. The installation should only be carried out by a qualified competent persons. For all gas appliances, a Gas Safe registered engineer and for solid fuel, a HETAS registered engineer. Failure to comply with these requirements may render the appliance unsafe in the first instance, impede on the efficiency and serviceability of your appliance and ultimately invalidate any warranty.
All installers in order to satisfy the terms and conditions of our warranty must be registered with the appropriate regulating bodies as deemed by Percy Doughty. All gas installers within the UK must be registered with the Gas Safe Register. In the Republic of Ireland the Board Gais and for solid fuel installations all installers must be registered with HETAS and for Scotland be compliant with the current Technical Handbook – Domestic.
It is important that you retain all documentation following the installation as this will be required in order to activate the warranty if needed. The documentation should be supplied by building control following successful registration of each installation by the installer, for both gas and solid fuel appliances together with any commissioning certificates, benchmarks and service records completed in the rear of the installation manual. It would be the responsibility of the installer to provide all the necessary information, however in some circumstances where documentation is absent then communications with your local building control officer may be beneficial, for solid fuel installations only.
When installing any Granite, Slate or Limestone hearth please ensure the area is flat and free form debris and dust, preferably to be situated on a concrete sub hearth. We would also recommend that the under surface only is primed/sealed with a suitable PVA glue or equivalent and left to dry sufficiently, prior to bedding down. The hearth would then need to bedded down on a strong sand and cement bed with a medium consistency, taking into account the need to fill any voids, spaces and support points to accommodate the safe functioning of the whole installation when completed. We would also advise that when installing the mantel, always prime and seal the under surface that will come into contact with any adhesive or water based mixes. Failure to adhere to the advice given may result in moisture patches appearing that may stain and damage the material, these effects may be irreversible and render the installation unfit for purpose.
Marble, micromarble and jurastone are not suitable for solid fuel applications. The colours shown in this brochure are as accurate as possible. If the colour you require is critical then please consult your retailer before making your decision.
When you are identifying your chimney please see further up this page. If you are not clear please consult your HETAS or Gas Safe Registered (Board Gais in Rupublic of Ireland) installer or your approved stockist.
Gas fires within The Gallery Collection with a gas input of 6.9kW or less do not normally require additional ventilation, however there are some circumstances where additional ventilation may be required. This would be determined by your installer when completing a survey before installation. For appliances with an input of 6.9kw or over, please ask your retailer for further information on the additional ventilation requirements.
When fitting a decorative gas fire within a basket the manufactures instructions and current British standard BS 5871 Part 3, must be followed, and in doing so a risk assessment must be completed by the installer to ensure that a sufficient gap is provided around the basket when placed inside the builders opening or purpose built fire chamber. This is essential for the adequate service and future maintenance of the appliance and also allowing for good access to the controls. It is also important for air flow cooling around the appliance basket, which would also allow for the best possible flame picture. It is also an important consideration to ensure the correctly rated materials have been used within the builders opening or purpose built chamber.
Your new gas appliance will require an annual service and maintenance but not limited to, dependent on use. It is a requirement of the warranty that this is carried out by a qualified competent person registered with the appropriate regulatory body as deemed by Percy Doughty. In doing so will help you enjoy many years of trouble free usage of your appliance.
All cast iron products are manufactured in ISO 9002 accredited manufacturing facilities.
All the gas fires we supply are tested in accordance with CE requirements and are CE marked.
All measurements are approximate and may vary slightly so allow for a tolerance of plus or minus 12mm.
To achieve some of the colour options, we plate the products using a variety of manufacturing processes. "Antique Brass finish" or "Chrome finish" are not brass or chrome.
GENERAL
All the images throughout this website are for illustrative purposes only and are as accurate as possible. Some natural materials may vary due to the nature of the products, but if the colour you require is critical then please consult your retailer before basing all your decisions on the colours shown here.
Some room sets may appear not to comply with the requirements of the latest building regulations, we would always advise that you check your proposal with your approved fitter before proceeding with any project.
Please also note that shading and crazing are characteristics of the glazed tiles used in tiled inserts and tiled hearths.
There are occasions when designs, or products are altered or discontinued without prior notice (a reserved right), so if you are about to set your heart on a particular fireplace, please consult your retailer before making that final commitment.
All installations must be carried out in accordance with the requirements set out in the Building Regulation.
Your Gallery fireplace is made up of a number of different components and it is important to ensure that your installer not only meets the requirements above, but that they also have the necessary experience to fit ALL those components, for example a Jurastone suite with a fire frame.
Before committing to a fireplace, please discuss your particular installation with your retailer who will provide expert advice and carry out a survey.
DOWNLOAD OUR BROCHURE & REQUEST YOUR NEAREST RETAILER